History of Hummingbird Farm:
In 2010, Dave was "removed" from his project at NASA and given a chance to work on anything he wanted. How about something new? How about putting ethics first? Having heard his Uncle had a problem with a spinal disc that resulted in a a lack of mobility in his legs, Dave rode his bike to Long Beach. There are not many things you can do to get a man to do something he doesn't want to do, but when his Uncle was in a Garden or a place of Historical Interest, boy could that man walk and talk – because he wanted to! His Uncle still walks, without a wheelchair to this day!
After a July 4th party
Dave broke ground on expanding the Cupertino Garden, leaving room between rows for a wheelchair in honor of his Uncle. After one month of reading every organic gardening book he could borrow from the library, he started reading books on chickens. That same month he ordered a large batch of day old Barred Rock Chicks to help boost the land fertility. The next month, after exhausting the supply of chicken books at the library, he ordered 2 dozen fruit and nut trees to someday give shade to the chickens. The fruit/nuts will feed both chickens and humans alike; while the chickens will feed and protect the trees by eating bugs and leaving organic fertilizer. The bare root trees were planted January of 2012.
Sometime after the chicks arrived and before the trees were planted, Dave had a "Field of Dreams" moment and scribbled down on a piece of paper three goals of the farm:
1) Ethical and symbiotic relationship of life
2) Education to all those who consider us community on how to treat life ethically and symbiotically
3) Strive to keep a balance of symbiosis with the community; however, NEVER bend ethically
Those chickens grew up and started laying too many eggs. It is funny to think about how wary people were when Dave started to give away free eggs. Even stranger was the free beer.
Rico had helped align and plant the orchard, all the while he was studying brewing. After convincing Dave that he knew how to brew, the "spent grains" could be used to feed chickens, and the beer was legal; the farm expanded into brewing. The final piece of the puzzle came together when Rico showed Dave a management video that rang so true to him. Every bad manager he had ever had, never did any of these things…Once more, this video seems to show that people make things better when they make what they want and not do it for the money. We ventured into a new management model that was working well for internet companies that made it past the dot com bust.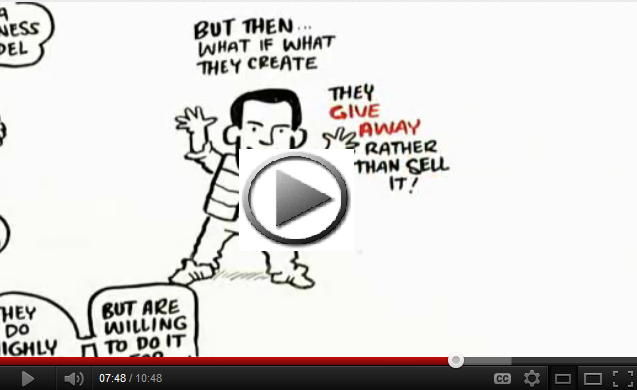 We had our first break with a Craigslist ad titled: "Free Eggs, Free Education for kids, Free Homebrew for Adults". People got six free eggs if they came with a car or a dozen eggs if they came without a gas powered car. Also included with each visit was a half hour tour of the farm/seed planting activity. Surprisingly, many people who did not drink beer wanted to volunteer too! It worked too well and we developed a two month long backlog of guests within a two week period of advertisement.
Our first Elephant Donation came from a fellow Hummingbird fanatic. Mia owns, runs and even picks a few seeds for a small company called, Smart Seeds. They have wonderful exotic seeds for Hummingbirds and Humans alike! Don't just take my word for it, see what people are saying at Dave's Garden(Different Dave). Mia loved our missions and just wanted to help. She offered anything from her store…which was then told to all the volunteers at Hummingbird Farm. If you tell people it is free, they will pick it. When Dave sent the list to Mia, she sighed and laughed a bit – but then – she gave the farm every last seed request! She even paid for shipping! She doesn't know it yet, but Hummingbird Farm is saving seeds from its harvest just for her…[to be continued winter 2012]
We can't thank Mia enough for getting the ball rolling. Timberland Shoes offered to to send out 10 volunteers the very next week! We had a staff trained and ready for a corporate partnership within seven days, along with allocating over $1,500 in donations for all the necessary construction supplies. Mia's seeds found a wonderful home among our Garden.
The view of the garden beds from below with the donated "Chicken Tractor" on the right. The 8 planter boxes exemplify a proper crop rotation based on Eliot Coleman's book:
The New Organic Grower
The trees of the orchard were surveyed onto the hill using the North Star and flashlights. This whole survey procedure was pioneered without a book, most orchards are made on flat land. The mounds you see below each tree are called German Mounds and were based on a University of California Publication entitled, The Home Orchard. The German Mound pulls topsoil from around the planting site to increase the depth of tilled topsoil upon planting, give warmer roots with a raised bed and prevent root rot by raising the root crown above the saturated ground and giving it a chance to dry out. (Hops vines are on the far left silhouette)
The final 2 boxes nearing completion as the others flourish. Construction finished on the first day of summer, 6/20/12!
Davinder (left) and Dave (right) the day box #8 finished construction!
___________________________________
Before our Move to Santa Rosa we had formed partnerships with over 23 organizations. The Deputy Sheriffs' Association, Walmart, Volkswagen and GoPro to name a few.
Our Cupertino Donor Wall before the move to Santa Rosa
The Farm Moves to Santa Rosa:
Lisa proudly standing in front of the Santa Rosa property January 21st 2016
The new property already had apples, oranges and plums growing!  It wasn't long before they had the front lawn converted to garden, avocado trees added to the back, and new nectarine and lemons trees up front.
Santa Rosa home just a couple months after we moved in.  Cabbage up front, arrugula/greens in the middle and tomatoes/squash in the back.  Onions on all perimeters for pest control.
In June of 2016, new baby chicks were ordered. Columbian Wyandotte, Silver Spangled Hamburg, Easter Egger, Buff Orpington, Golden Comet, and our tried and true Barred Plymouth Rock!